Obituary for Mary Virginia Parten
Mary Virginia Atkisson Parten, at 96 years, passed about 4:45 am, February 1, 2018, at Cox South Hospital in Springfield, Missouri. Her daughter, Nora Grafton, and Mary's first cousin, Barbara Carroll, were at her bedside.

Per Mary's plans, Crafton-Cantrell Funeral Home in Aurora, MO, whisked her away to the University of Missouri Medical School in Columbia, MO. She chose to gift her body to the Medical School for study by a medical student in the Anatomy Course.

Mary Virginia was born August 20, 1921, in Aurora, Missouri, to Fannie (Williams) and Orliffe Atkisson. Her older brother, Howard, and younger brothers, Harold and Don Wayne, preceded her in death. Mary and her brothers all played a musical instrument. Mary learned to play the piano and violin, initially from her mother, who graduated in 1912, by correspondence, from the International Conservatory of Music in Dallas, Texas.

Mary Virginia is a 1938 graduate of the Aurora High School.

She had a glorious time attending college in Springfield, Missouri, which was at that time called the Southwest Missouri State Teacher's College. STC is now known as Missouri State University. Mary loved all the musical activities and graduated in 1941 with her Bachelor of Science in Education Degree.

August 24, 1947, Mary and David Franklyn Parten, a fellow musician, were married in Aurora, Missouri. They met at STC while both were working on their Bachelor Degrees. After graduation, they moved to Boston. Mary and Frank loved their years in Boston while Frank was working on his Masters Degree. They attended symphony orchestra performances and enjoyed spending time with their colleagues, including Leonard Bernstein, who was studying with the same piano teacher as Frank.

Mary and Frank's first daughter, Nora Rachel, was born December 26, 1953, in Fayette, Missouri, where Frank was professor of music at Central College. Julia Lynn was born May 1, 1957, in Russellville, Arkansas, where Frank was music professor at Arkansas Polytechnic College.

Mary and Frank were very interested in exploring new places and had many new adventures. In the summer of 1960, they drove the Alaska Highway in a new Chevrolet station wagon to Fairbanks, Alaska, where Frank was music professor at the University of Alaska Fairbanks. Mary taught music in the Fairbanks public elementary schools.

This was the era when Mary pushed a large cart of song books and an upright piano from classroom to classroom. It was the first year Alaska became a State. During the first winter in Fairbanks, the temperature reached 73 degrees below zero Fahrenheit for 3 weeks!

On Sunday afternoons when the temperatures were slightly warmer, the family enjoyed the sled dog race. The dogs were in training for the Iditarod Race, which runs from near Anchorage to Nome over 1150 miles of frozen tundra.

Mary began classroom teaching of youngsters not quite ready for the first grade. She found it rewarding and not nearly as taxing as the music teaching.

Nearly every summer, the family drove the Alaska Highway south to Missouri to visit the grandparents on the farm in north-town Aurora and then drove back to Alaska in August. They camped along the way and had very favorite camping places including Kluane Lake where Mary loved to hear the loons call.

Mary earned her Masters Degree in Education at the University of Alaska Fairbanks in 1967. As part of her Masters, she wrote a musical for young performers about Alaska, and how the Alaska flag came to be. The musical was performed by students in the Fairbanks Public School System.

During this period, she taught at University Park Elementary School. The family also lived in Chadron, Nebraska, and St. John's, Newfoundland, exploring highlights driving across Canada.

1970 found the family moving to Dillingham, Alaska, where there was opportunity for Nora to go to Japan with the high school study tour, for 3 months. She then stayed in Japan, initially under the generous sponsorship of the Horiuchi family. Mary then encouraged Nora to learn about Dr. Suzuki's Talent Education Institute in Matsumoto, Japan. Nora became a teacher trainee there for the 2 year program. Julia Lynn followed for 2 years as well. Mary and Frank loved exploring the town and culture over the two summers they also spent in Matsumoto.

Mary and Frank moved to Anchorage in 1974 while Nora was attending Alaska Methodist University and then Anchorage Community College, now known as University of Alaska Anchorage. Mary taught "Modified Primary", as it became known, while living in Anchorage. Sometime between 1977, when Nora and Ron Grafton were married, in Anchorage, Alaska, and 1980, Mary and Frank retired to Aurora, Missouri, to care for her parents.

Frank & Mary took many "drive-arounds" across the country to visit family and friends. They loved to drive along and see whatever sights and adventures presented themselves. They also enjoyed their time at the Locust Street house in Aurora, where family came to visit. A favorite activity was sitting on the back porch with a glass of iced coffee.

September 8, 1980, her grandson, Aaron was born to Nora and Ron Grafton in San Francisco. Aaron is now a dentist working with his father in Pleasant Hill. Mary's second grandson, Christopher, was born May 10, 1984, in Concord, California. Christopher is now a pilot living in Chicago. Mary and Frank loved to drive out to California to visit their grandsons and to walk all over San Francisco to see the sights.

On March 17, 1995, Frank passed away with Mary, Julia, Nora, Aaron & Christopher gathered at his bedside at Cox South Hospital in Springfield, Missouri.

Julia passed August 22, 1999, due to invasive breast cancer in Denver, Colorado. Mary drove and Nora flew to Denver many times to assist Julia with her recovery from her many cancer treatments.

Sometime in 2000, Mary moved into a cottage at the Ozark Methodist Manor. She enjoyed her long walks through the neighborhood and loved sitting on the screened back patio. Mary was an avid reader of many newspapers and magazines. She valued staying current with the news and national politics. She felt it important to be aware of what one's congressional representatives were doing and thought it important to communicate with one's representatives about important issues. She loved to correspond with family and friends, writing many letters. (Her letters were famous within the family for her wonderful descriptions and for her habit of writing up the margins of the paper, adding thoughts she had forgotten to put in the main letter.)

Nephew Ed Atkisson, cousin Barb Carroll and her husband Tom, and Nora helped move Mary into her apartment #1 Wesley Hall. She came to discover that she could enjoy the company of the residents in the other apartments. She delighted in her dinner conversation with her table mates and the other residents over the years. Mary looked forward to the visits & letters from family and friends. She was very proud of her grandsons and their accomplishments, as many of you have heard.

Mary's cremated remains will be returned to Nora by the Medical School via U.S. Postal service in 6-36 months. At that time, a gathering will be planned at the Maple Park Cemetery in Aurora for a Memorial Service and burial. If you would like to be included, please let Nora know. Also, Nora would love for you to write down any memories or stories of Mary you would like to share with her. Please send them to Nora in the enclosed envelope.
To send flowers or a remembrance gift to the family of Mary Virginia Parten, please visit our Tribute Store.
Events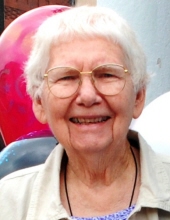 Thank you for sharing your
memory of Mary
Provide comfort by sending fresh
flowers from our local florist.
No thanks, please don't show me this again.